Stripped screw heads are super annoying. Here are 4 ways to avoid having to deal with them.
#1: Use the Proper Bit for the Job
Not all screws and bits are created for each other. This is an example of a Phillips head screw- you may think since you have a Phillips screwdriver, it will work on this screw. However, this screw head is pretty big, and the bit is smaller and has a sharper point on it. When you try to use this bit on this screw, it just slips and jumps around. This is one of the main causes of screw heads getting stripped.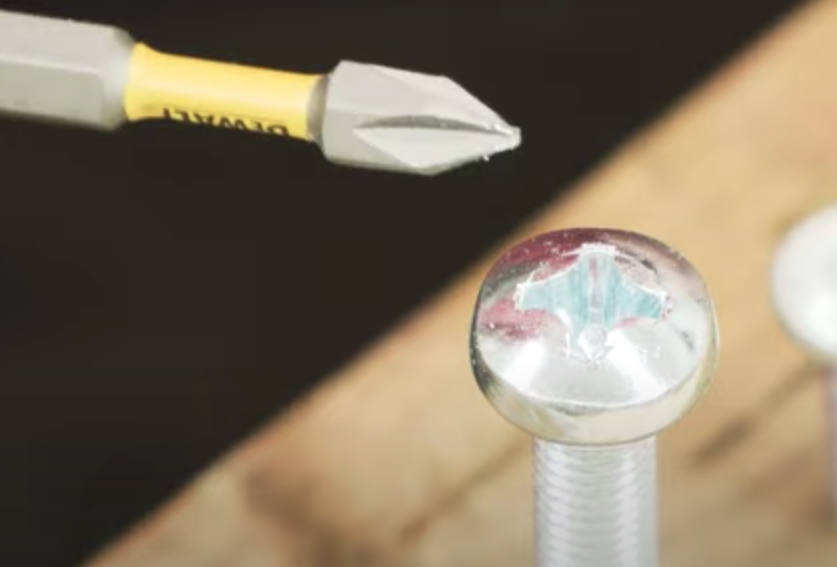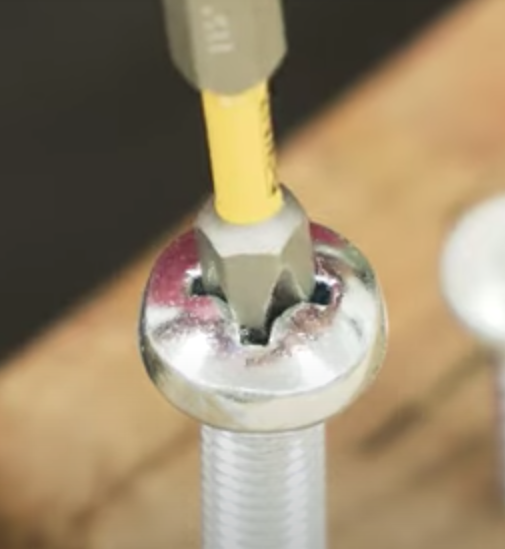 A smaller, sharper bit will work well on a smaller screw like this: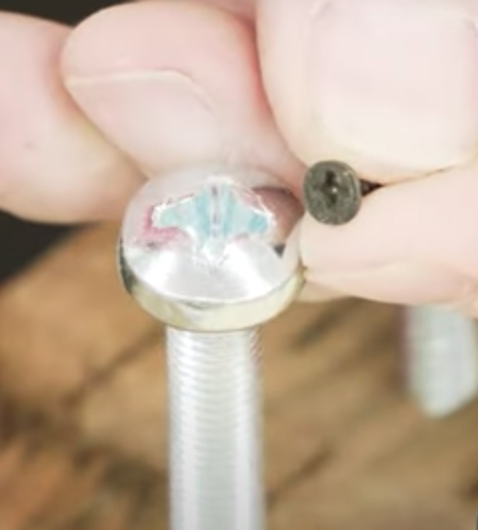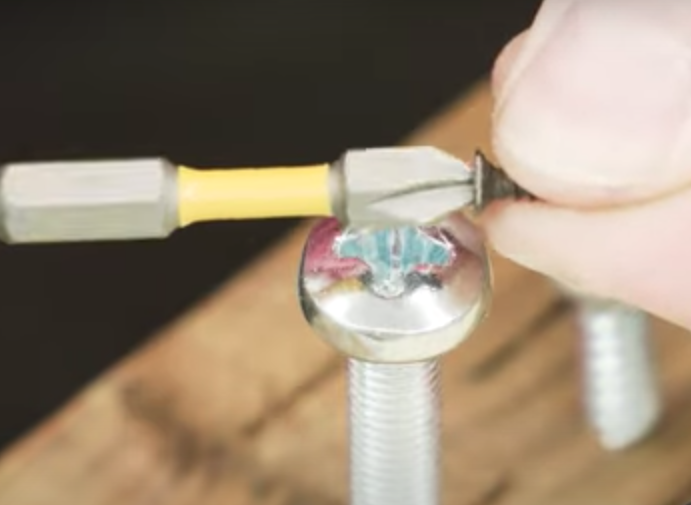 The screw driver bit should hold tight in the screw, and turn it immediately and easily.
There are a variety of bits you can use to match the screws you have. It's worth investing a set of bits so you have a variety of sizes for whatever projects you're going to be doing.
For the larger screw head shown below, you'd want to use a more blunt driver bit.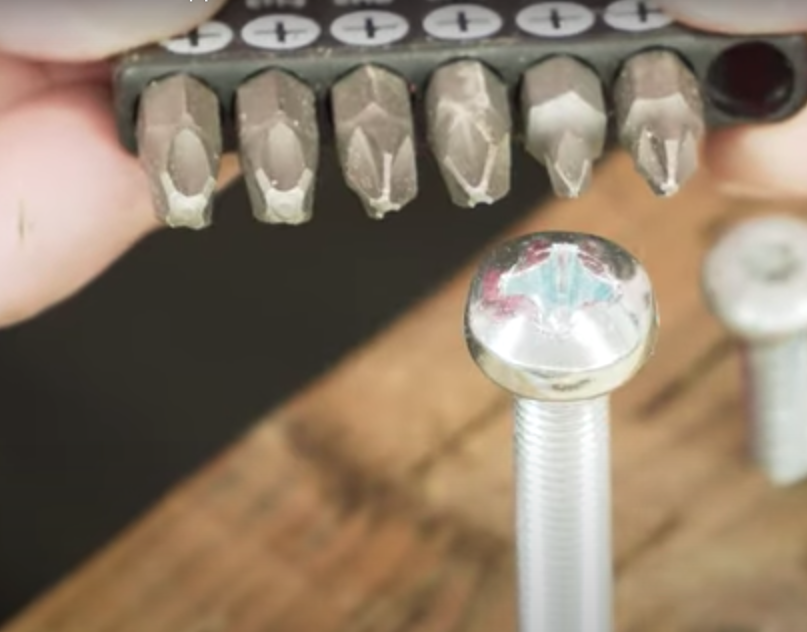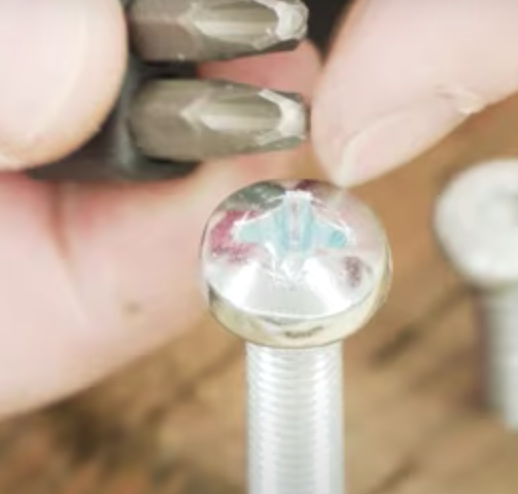 This one is even better; it's a little more blunt and a little bigger.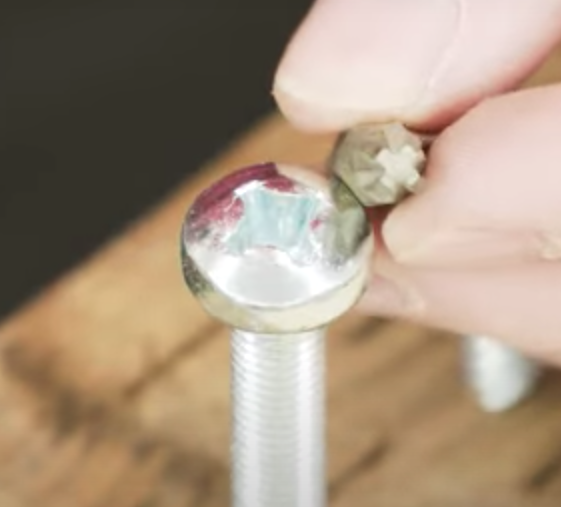 See how there isn't a lot of give or play here? This is what you're after.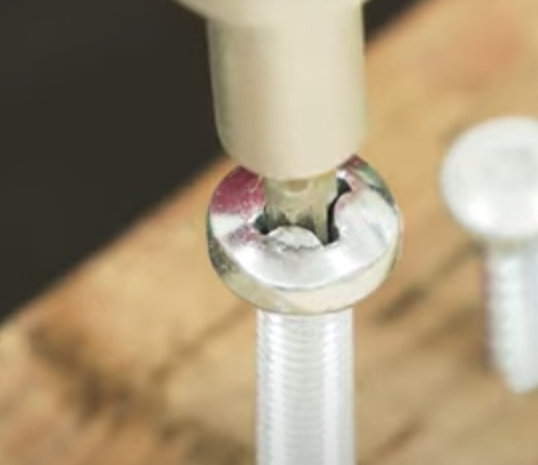 So, no matter what type of bit and screw you're dealing with, you want to make sure the sizes match up. You can test them out before you begin fastening the screw to avoid stripping. Here's a 6-sided star drive, where it took testing out 3 or 4 bits to find the right size for it- notice how snug it fits, where there isn't a lot of give.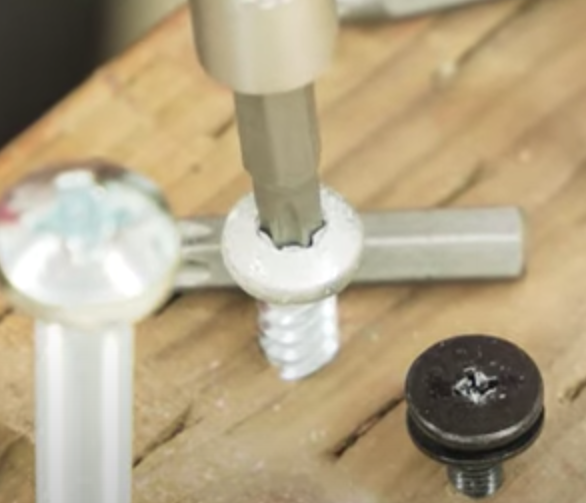 Another one that really throws people off is this type of screw. It looks like a Phillips, but see the little lines in between the plus sign? This is called a Pozidriv screw, and it has a little different head than a Phillips.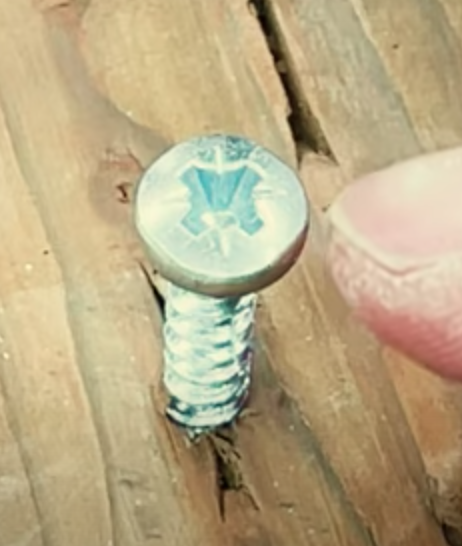 You can see the bit has ridges in between the plus, which will fit the Pozidriv screws much better than a Phillips head screwdriver would.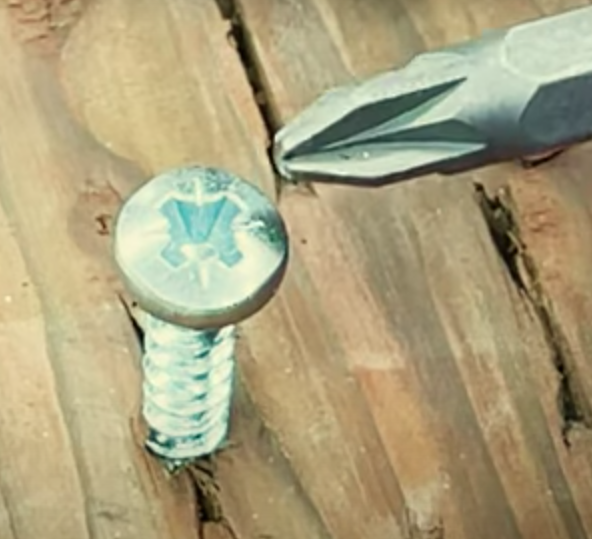 Typically when you purchase the screws, they'll have the screw type listed right on them.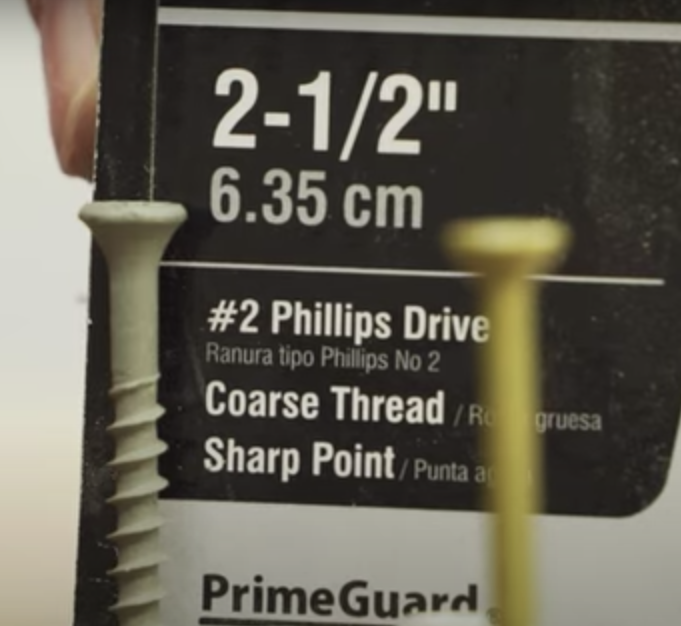 The bits will also be labeled- look carefully at this bit, you can see a PH2 labeled there; these screws and this bit should work great together and allow you to get a good drive.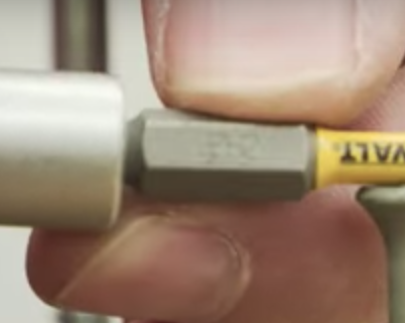 #2: Line Up the Driver and the Screw
If you've got your screwdriver lined up perfectly, it will drive every time. As soon as it goes out of line, it will slip and spin in the screw, causing it to strip.
Good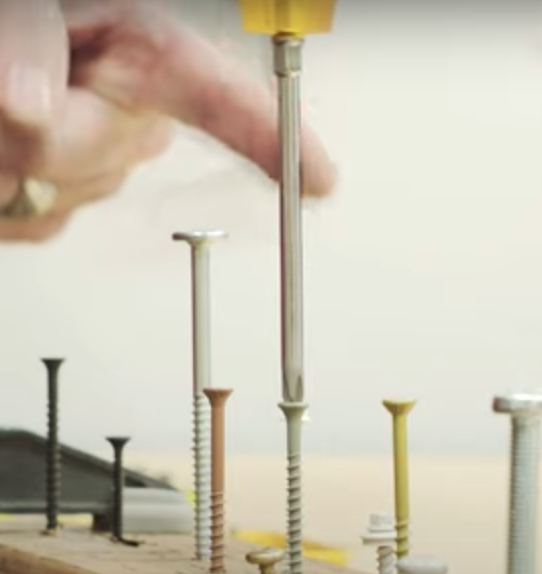 Bad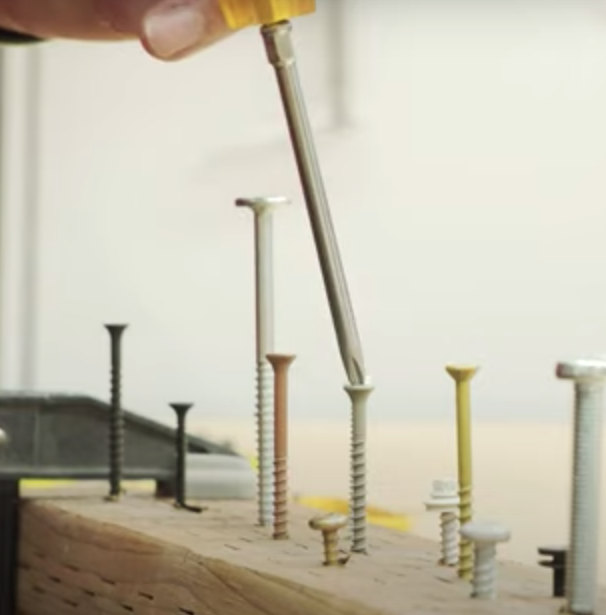 #3: Apply Proper Pressure/Torque
Once you've got the proper bit/screw combination, and you've got it lined up, it's important to remember to apply a good amount of pressure and torque to get the drive going. If you're light on the pressure, the screw driver will just twist away from the screw, causing it to strip.
All of these tips the same whether you're using a screw driver, a drill, or an impact driver.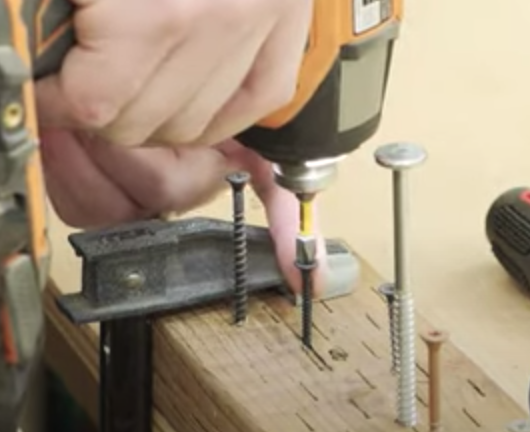 #4: Tank Bond Liquid Grip
You're probably familiar with DAP and have used their products- everyone has. They were kind enough to sponsor this post and provide us with some cool products.
They have this great product called Tank Bond Liquid Grip, which can help prevent screws from stripping. It provides 7 times more grip to any fastener- all by applying a drop of it to the head of a screw. Any time you notice any sign of slipping or stripping, apply a drop of this to the fastener.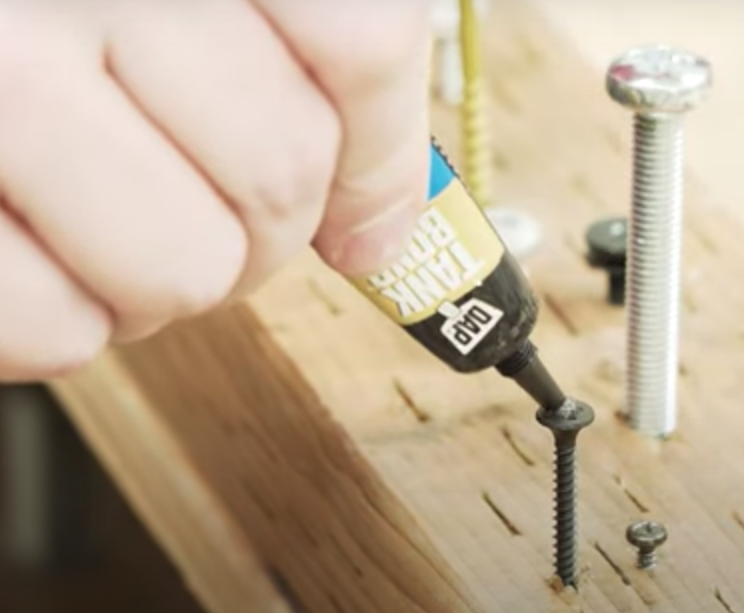 Sometimes screws get stripped even after you've done everything right. Maybe you can't get the right angle, due to the circumstances in your environment, like you're in a tight space. Apply a drop of Tank Bond, and it will improve the grip up to 7 times.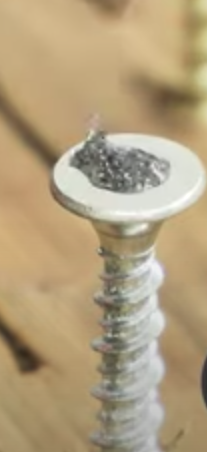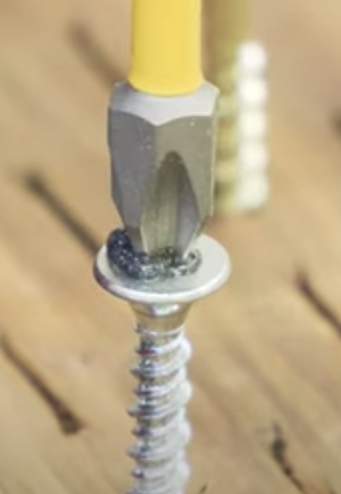 Keep the Tank Bond by your drills or screwdrivers at all times, so you have it handy at the first signs of stripping. When you're done, you just wipe it away!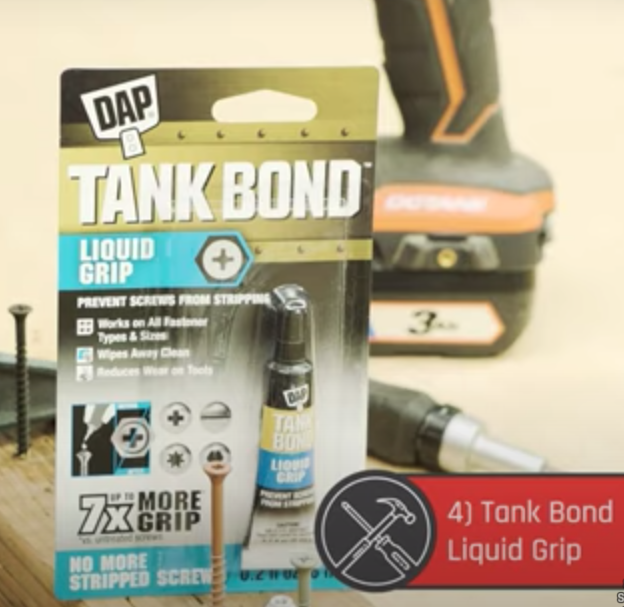 Do you have any other tips or tricks for stripped screws? Let us know in the comments!
Watch the video here!
Products used in this post:
► SPONSOR ◀︎ Tank Bond Liquid Grip by DAP makes it easy to prevent stripped screws! Just apply a single drop at the first sign of slippage and it will increase your grip by up to 7x! Learn more at http://bit.ly/3dHVPWK or or pick yours up today at Lowes or Wal-Mart.
• DeWalt Screwdriver 40-Piece Bit Set, Impact Ready (Paid Amazon Link): https://geni.us/LA9a2h
• Horusdy 208-Piece Screwdriver Bit Set (Paid Amazon Link): https://geni.us/fjeGe
• DAP Tank Bond Liquid Grip: http://bit.ly/3dHVPWK
The Amazon links above are affiliate links, which means you pay the same price as always but we make a small commission, which helps out our channel – so thanks!