Can you finish your basement yourself? Yup. You sure can. In the last two homes we've been in, we've done just that and, while it is a lot of work, saving tens of thousands of dollars (and acquiring awesome power tools) makes it all worth it.
How Much Does It Cost?
Just like with any construction project, there are dozens of factors that go into determining the cost of finishing a basement but I'll share what we paid to do ours. As a precursor to this, we got estimates on having our basement professionally finished and also talked to friends and neighbors who got quotes for their basements to be finished by a third part. Our basement is right around 1,900 square feet (176 square meters) so we knew it was going to cost a lot but, because we live in a rambler, this would literally double our living space. For us, the quotes came in around $60,000 – $70,000 dollars for the type of space we wanted. This included a full bathroom, 3 bedrooms, a workout room, a recreation area, a home theater and a kitchenette. We also added built-in shelving and cabinets in the theater area, had upgraded carpet, 3-tone paint and cased windows.
Click on the image below or here to see a cost breakdown for my basement. Obviously this won't translate to a direct cost comparison of your basement or unfinished space but hopefully it helps you in your planning.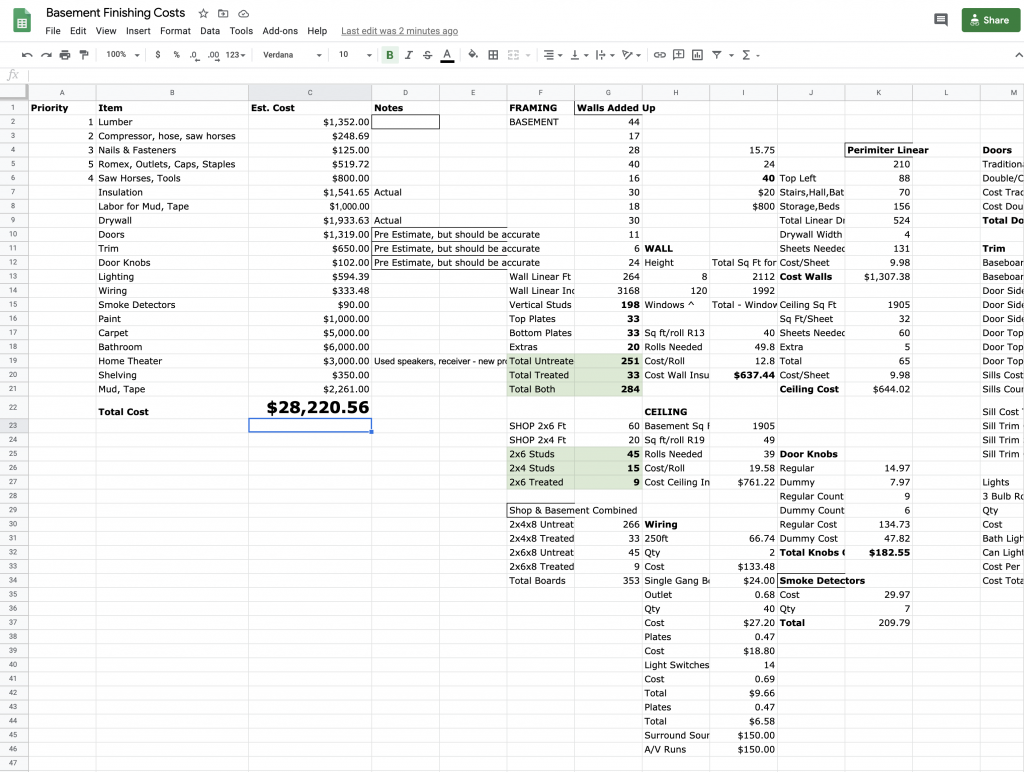 My basement took about six months to do initially, but this did not include the Kitchenette or the bathroom. The bathroom took another three weeks (when we had enough money to work on it) and the kitchenette took 2-3 weeks as well. Keep in mind that this was just working on it nights and weekends. If I had the availability to work on it full time that would have been a whole different story.
What Should You Hire Out?
This all depends on your comfort level. Many people refuse to do their own electrical work. Others aren't confident in their ability to do plumbing, or framing. My attitude is that I can do anything. I'll likely fail at certain things or wish I did them better but then I'll correct them and move along with new skills under my belt. The first time I did the electrical work on a basement I wasn't sure if I could daisy chain the wiring for the light switches. I decided to just try it and see if it worked. It worked, and that's the standard method of doing things but I didn't know it at the time. I then purchased books and started reading a lot of material online to learn about building codes, techniques and processes for running electrical, using PEX pipe, P-Traps, framing, concrete nails, homeruns (for electrical circuits) and so much more. Little by little, I got to the point where I understood each step and felt confident enough to go for it.
After a lot of research, I decided to hire out the mudding and taping to someone who was much faster and more skilled than myself. I've done that three times now and would do it again. The other portion I've hired out is carpet installation. This is mostly due to the cost for me to get carpet rolls as compared to a buy-it-and-have-it-installed price from a carpet company. Now laminate flooring or tile, on the other hand, are flooring types I'd rather do on my own.
What questions do you have about the basement finishing process? How can I help? Leave a comment below and I'll do my best to answer promptly. I have also created a series of videos on framing, mudding, taping, insulating and bathroom finishing that you might find helpful along the way.