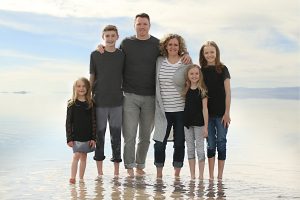 Welcome to LRN2DIY! We're Nils and Katrina. We've been married for a long time. We have 4 ever-growing kiddos, 1 annoying dog, and a house and yard with projects galore. Our penchant for DIY began when we were engaged and looking for wedding invitations; when the salesperson at the stationery store told us the prices, we excused ourselves and never returned. We knew we could figure out a way to print and assemble invites on our own, and that's what we did. I asked a co-worker with a camera to take our engagement pictures, and she agreed to be paid in Taco Bell. It worked out nicely for all. This was before doing things this way was semi-normal, so we're basically trend-setters. We were also starving students for a really long time, which made made DIYing a necessity; now it's just who we are!
Nils has a genuine need to be creative and productive at all times. He loves a project, and can figure out how to build or fix just about anything (except cars). By day, he's a web developer, and by night and weekend, he's a YouTuber and DIYer. He's way funnier in real life than he is in his videos. He has about 12 million hobbies. He's a service-oriented fella, and is really happy when his videos help someone out!
I'm Katrina, the writer behind this site. I realized a few years ago that building and creating are necessary for Nils to be happy, so I try to be supportive and use it to my advantage to get things done around here! I'm a full time mom, enjoy cooking and baking, a good conversation, and a good workout. I also hate crafting, but admire and aspire to be like those who love it. I think most things can be funny, and hope to inject some humor around here.